Egypt goalkeeper Essam El-Hadary became the oldest player to feature at the World Cup finals in a match his team lost to Saudi Arabia.
At 45 years and 161 days El Hadary beat the record of Colombia keeper Faryd Mondragon (43 and three days at Brazil 2014) to become the oldest player to take to the field. He began his international career in 1996.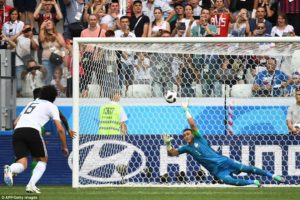 El-Hadary made a spectacular penalty save to mark a historic day as His team scored their first World Cup goal from open play since 1934 but still lost the game.
With only a consolation match standing between Egypt and their plane home after losing their first two group matches, El-Hadary, 45, will at least be heading home with a World Cup record.
The goalkeeper, who plays for Taawon in the Saudi Arabian first division, took his place in goal for Monday's game in Volgograd and captained his country in what was also his World Cup debut.
El-Hadary, who won his 159th cap for his country with that appearance, made his full international debut aged 23 back in 1996 under Ruud Krol.
Since making his debut, the goalkeeper has gone on to win four African Cup of Nations titles with Egypt and has been named the best goalkeeper at the tournament on three occasions.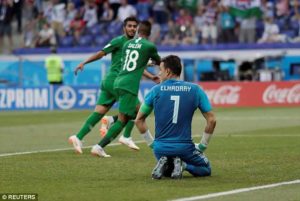 Unfortunately for the veteran, his special day would be end on a bitter note as he let a stoppage time winner for the second-lowest ranked team in Russia slip through his grasp to condemn the Pharaohs to a 2-1 defeat. The 45-year-old will head home with his name inked into the World Cup history books, but also with his achievement stained by his error.
Story By Daily Mail Sports…..