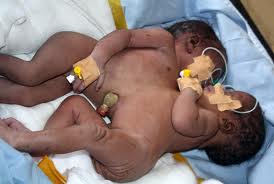 The conjoined twins at Mulago hospital have pneumonia.
The Hospital Spokesperson Enoch Kusaasira says doctors have established that the babies are suffering from pneumonia and have challenges breathing.
The babies are however receiving treatment at the intensive care unit.
The twins were born in Ngora district and transferred to Mulago hospital for treatment.
They first contracted flu and cough, before the condition worsened.
Tests conducted earlier by the doctors indicated that each of the babies has their own heart, although they are in the same sack. They also have separate spines.
Tests on them have however been halted to allow them recover.
Their mother Faith Okiri died during delivery earlier this month.