Finally, broadcast star, Roger Mugisha is off the shelf. Finally- because he has been linked to several ladies for close to a decade but had never made such a bold step.
However, Shiba Nassali's charm must have worked Roger to the nerve that he decided to put a ring on it. Yes, over the weekend, Roger along with an entourage of over 80 people, including close friends and relatives stormed Shiba's parents' home in Mbarara and the two got engaged at a traditional wedding (Kuhingira).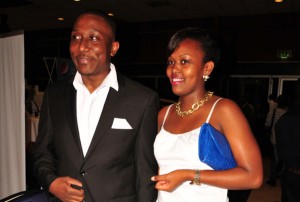 The Monitor Publications Business Development Manager was all smiles as he knelt down and put a ring on Shiba's finger.
And Roger is not done yet as he told us that he intends to walk his fiancée down the aisle eight months from today. June 3, 2016 has been set aside as the day they intend to exchange their vows. Roger told us that he will give us updates on the church and venue for their reception.
In other news, KFM's morning show co-host Jackie Deweyi was also hitched over the weekend. Deweyi officially introduced her longtime lover Enock Nsubuga to her parents in Kikaya- Kyebando. Deweyi told us that she will finalise her wedding plans sometime next year.
Although they kept us out of their preparations yet we sit in the same building, join us to congratulate Roger and Deweyi.