Rice posho and meat spiced up with curly eggplant on the side of the plate. Uh delicious. Yes it is and of course that was the whole essence of the trip to the Elohim Development Association an orphanage located in Luweero.
On Labour day as the some youth under the jobless brotherhood clique paraded yellow pigs for his excellency the president, got into a heated scuffle with the police in Jinja let alone the fact that it was a public holiday. A group of young benevolent youth under the umbrella of charitable group 40 Days Over 40 Smiles embarked on a journey to Luweero to pay a visit to these little ones.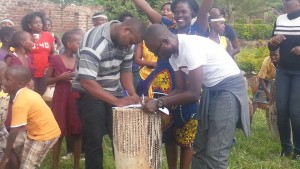 The group was welcomed by encomiums and soothing dances from the orphanage dance troupe, Elohim Dance Force Troupe then an official welcome from the orphanage's pioneering founder Duncan Ahigika who is a former paratrooper with the UPDF.
Ahigika oriented the group about the orphanage's origin, strengths and weaknesses and also the association's future prospects.
"How I take care of these kids. I train various institutions like Coca-cola and National Medical Stores. So for example I train music, dance and drama in Nabisunsa Girls for free but in return the school agrees to form an outreach program where students donate basic essential needs like soap, pads for the girls etc." Ahigika said.
Due to the increased numbers in and around the orphanage, Mr Ahigika expressed need for a dormitory extension by the orphanage for the girls and a fence to provide more security.
The 4040 team led by Benjamin Rukwengye therefore pledged to set up an extension block for the girls dormitory thereby signing a memorandum of association thereafter. Benjamin also promised to complete and unveil this project by August.
Elohim Child Association is a home for the orphaned or abandoned children in rural areas of Uganda located in Bombo town. It currently houses 46 children all of whom are in school with the eldest currently in senior four and has a dance group called the Elohim Dance Force Troupe that produces local music and generic Africa dances the left the 4040 group screaming and gawking.