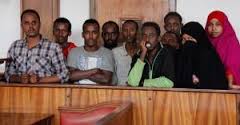 BY RUTH ANDERA
The Kisenyi terror suspects have been committed to the high court for trial.
The committal papers have been presented by state prosecutor Esther Narungi.
According to the Committal papers, The Director of Public Prosecutions will also adduce evidence that the accused were in contact with alshabab militants and at the time of their arrest police secured three phones they used to communicate with Al sha-baab commander Mohammed Adam.
According to the evidence gathered the suspects were to first bomb Kampala and Entebbe.
They have been further remanded to Luzira Prison until the next convenient session of the high court.
The suspects include seven Somalis and one Kenyan.
They are charged with the offence of belonging to a terrorist organisation contrary to Section 11(1) of the Anti-Terrorism Act, 2002.