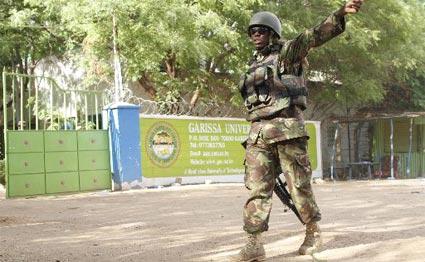 The Somali based Islamist militants Alshabaab have warned of more attacks on the East African region. The warning comes just two days after gun men linked to the group attacked Garissa University College in North Eastern Kenya killing 147 people and injuring over 70 others.
In a statement attributed to the group's press office, the Alshabaab have told the Kenyan government that they will write with the blood of Kenyans so their graves should be dug now and their coffins prepared. "Our message will be written to you not with words, but the blood of your people. Dig their graves and prepare their coffins," reads the statement in part.
They have also warned Kenyans not to be lulled into a false sense of security given by what they call repeated government lies.
The group also accuses the Kenyan government of perpetrating atrocities against the Muslims in East Africa.
The statement further says that in Somalia, the Kenyan military has committed a countless number of atrocities against the Muslim population.
"Do not dream of security in your lands until security becomes a reality in the Muslims lands, including the North Eastern Province and coast until all your forces withdraw from all Muslim lands. We will, by the permission of Allah, stop at nothing to avenge the death of our Muslim brothers until your government ceases its oppression and until muslim lands are liberated from Kenyan occupation", the statement adds.
However, here in Kampala, a group of Muslim youth has condemned the attack on Garissa University College in Kenya, saying the Islamic faith does not condone any form of killing.
The group led by Ahmed Hajji addressed a news conference in Kampala calling on all Muslims to embrace peace love and unity instead of sowing seeds of hatred.
Meanwhile security has been tightened along all Uganda's major highways following reports of a looming terror attack on schools along the Jinja highway.
And as a means of checking terrorism, Internal Affairs Minister Gen. Aronda Nyakairima says no resident in Kampala will be allowed to enter a supermarket and church without a national identity card.
Story by Catherine Ageno