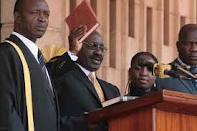 The Court of Appeal has nullified the election of yet another MP, less than a week after Singh Katongole was thrown out of Parliament.
The latest culprit is the Muyanja Mbabali, whose election as the Bukoto South MP has been nullified over lack of academic qualifications.
Mbabali was dragged to court by political rival Mathias Nsubuga, also the Democratic Party Secretary General over alleged forgery of Ordinary and Advanced Level Certificates.
Three justices of the Court of Appeal led by Justice Constance Byamugisha have ruled unanimously that Mbabaali does not qualify to be in Parliament.
Evidence was adduced before Court to prove that claims that he had acquired a diploma from a college in Malaysia and a certificate in accountancy here in Uganda were all false.
The judges further ruled that the degree he acquired from Nkumba University based on forged documents is also rendered null and void.
The judges added that they were stunned that Muyanja Mbabaali did not present any actual evidence against the accusations that were levied against him.
His appeal has now been dismissed with costs and fresh polls ordered for the Bukoto South Constituency.