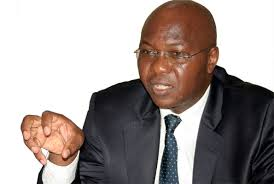 Kyambogo university lecturers are at it again.
They have laid down their tools again, this time over the return of the Vice Chancellor Pro. Isaiah Omolo Ndiege.
Ndiege had been sent on forced leave by the university council over allegations of mismanagement.
However, the High Court in Nakawa last week ruled that the decision to suspend the vice chancellor was made in haste without fully investigating the matter.
It ordered that he be reinstated, which did not go down well with the university staff.
This morning the lecturers started closed their offices after citing Prof Ndeige whose administration they are opposed to.
They have also been joined by the support staff.
Meanwhile the police are heavily deployed at the university with Ndiege's office and the whole administration block heavily guarded.
Student leaders have addressed a news conference on the matterand called for dialogue for the good of the institution.
Speaking to journalists, Ndiege who has been denied access to his office says he is back to work and not fight anyone.
He is currently locked up in a meeting with Deputy Vice Chancellor to forge a way forward.
Meanwhile, the University Spokesperson Laurence Madete has called for calm and asked both parties to embrace dialogue.