Netherlands captain Arjen Robben has retired from international football after his side missed out on a place at the next World Cup in Russia.
Robben who made his debut in April 2003 and won 96 caps, retires after scoring 37 goals for the national side making him the joint fourth on the Netherlands' all-time goalscorer list and level with former Arsenal forward Dennis Bergkamp.
Robben – 'It's a good time to pass the torch to the next generation,' 'It was an emotional night. I knew before the game it was going to be my last and it was not easy.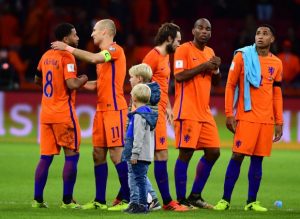 'On one hand I wanted to enjoy it but I wanted to focus on the game because I wanted to say goodbye with a very good match.
'It has been a long trip, 14 years,' 'My first memory was also against Sweden in 2004 when I was very young. I took the decisive penalty again in 2004, my first tournament.
'I played six tournaments, three Euros and three World Cups and the World Cups were maybe the most amazing experiences in 2010 and 2014.
'We're a little country and we came one time second and one time third. We can be very proud about this.'