By Damali Mukhaye
The former FDC presidential candidate Dr Kizza Besigye has called upon persons in authority to do everything in their power to investigate the growing wave of crime being committed against Ugandans.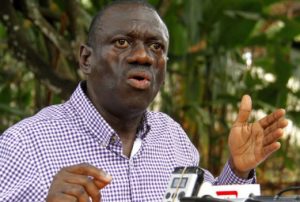 Speaking to journalists at his offices along Katonga road, Besigye said that the country has turned into a mafia state where organized crimes have continuously been executed on citizens and government officials including police officers, judges and others.
He was speaking in the wake of the gruesome murder of the police spokesperson Andrew Felix Kaweesi.
Besigye has also advised the government to seek external assistance where it lacks capacity.
Related Stories 
Assistant Inspector General of Police Andrew Felix Kaweesi shot dead.
President Museveni condemns the killing of Andrew Felix Kaweesi
PM calls for a thorough investigation into the murder of Felix Kaweesi.
Kaweesi To Be Laid To Rest On Tuesday
Lwengo district declares week of mourning in honor of slain AIGP Felix Kaweesi.