Kyadondo East Member of Parliament Hon. Robert Kyagulanyi who this afternoon returned from the USA has been delivered by the police to his home in Magere, kasangati town council, wakiso district.
Kyagulanyi had earlier this month traveled to America for specialized medical treatment after he was allegedly tortured during his arrest in Arua Municipality.
Security was stepped up on Entebbe road, Roadblocks and security checks at Kajjansi round about and in Munyonyo ahead of the legislators return and a military helicopter was seen patrolling Entebbe and its outskirts.
Singer Eddy Yawe also a brother to Hon. Kyagulanyi was arrested this morning by airport security on his way to welcoming the Honorable.
Yesterday police spokesperson Emilian Kayima said they had received intelligence information that some people were being being given red T-shirts to take part in processions to welcome the legislator.
Kayima however declared such arrangements unlawful because the organizers have not followed the public order management Act.
Kayima also said Bobi Wine would be escorted by security operatives from the airport up to his home upon arrival.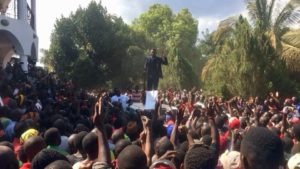 Hon. Kyagulanyi was picked by the Police shortly upon disembarking from the KQ plane this afternoon upon his arrival at Entebbe airport after his return from the USA and driven by police amid tight security straight to his home in Kasangati. Upon Arrival Bobi Wine addressed a huge crowd from the roof of the car on arrival.
Related Stories………….
#BobiWinesReturns AIGP clarifies on Bobi wine arrest
#BobiWineReturns Brother EDDY YAWE arrested. Lord Mayor & other legislators blocked
Police bans processions & rallies to welcome Bobi Wine as he returns from the US tomorrow