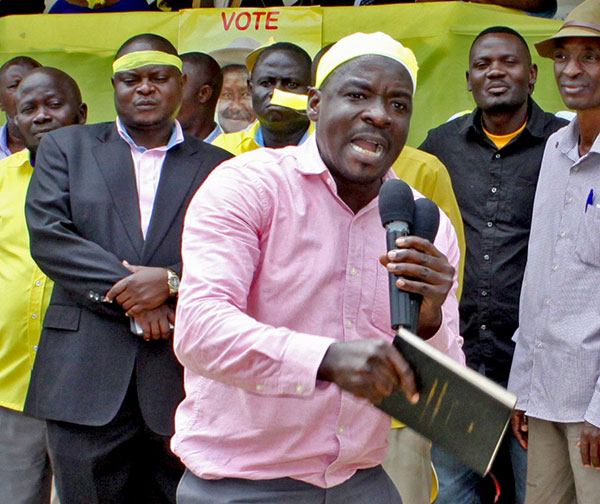 By Anthony Wesaka & Juliet Kigongo
editorial@ug.nationmedia.com
KAMPALA. The leader of Boda Boda 2010, Mr Abdullah Kitatta, has been sued before the High Court in Kampala for allegedly beating up pupils, who were travelling to Nkumba in Entebbe, Wakiso District, to attend a police function early this month.
It is alleged that Mr Kitatta and his accomplices beat up pupils of Winterland Primary School at Busega roundabout because the girls wore red ribbons on their heads, which were part of their dress code. The red ribbons are currently being worn mainly by MPs, who are opposed to the lifting of the presidential age limit.
The lawsuit was filed by Mr Jamil Kiragga, a food vendor, Mr Daniel Mayombwe, the area LC1 chairperson, and Mr Evarist Kalungi, a coordinator of crime preventers.
Narrating the events of October 3 when the innocent pupils, all below 10 years, were allegedly assaulted, the petitioners contend that they were travelling with the pupils on an invitation by the police to participate in the police annual celebrations at Nkumba.
"The applicants together with the children were stopped at Busega roundabout and beaten by men who claimed to be deployed by the 1st respondent (Kayihura) to fight people demonstrating against lifting the age limit from the Constitution," the petitioners state in their suit.
Through their lawyer Ladislaus Rwakafuuzi, the petitioners want court to declare that the members of Boda Boda 2010 are a danger to society and that they must be punished for all their crimes.
They also want court to declare that the men united under Boda Boda 2010 are very well known to Gen Kayihura and that they act on his behalf or under his instructions. The petitioners want court to order Mr Kitatta, Gen Kayihura and the Attorney General to pay punitive and compensatory damages to them at a 2 per cent interest.