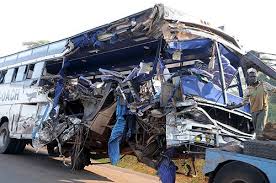 The bodies of the Ugandans who perished in yesterday's Nimule accident are expected to be brought back this evening.
This is after the management of Bakulu coaches agreed to transport the remains from South Sudan.
The accident occurred near Nesitu Township, about 25 kms along the Juba-Nimule road.
It involved a truck that rammed into a Kampala bound bus passenger bus belonging to Bakulu coaches.
The booking and clearing manager Ali Andama says they have sent a truck to South Sudan to pick the bodies.
He says the truck is expected back in Kampala this evening and the bodies will be taken to Mulago hospital, from where relatives can pick them.
An estimated 35 people perished in the accident.