The Deputy Katuukiro of Busoga has appealed to the youth to embrace the various development programs under the kingdom to better their lives.
Owek Al-Hajji Ahmed Noor had on Friday visited the Nation Media Group (U) headquarters in Kampala's Industrial Area in Namuwongo during the company's inaugural Cultural Day.
In an interview during the Omubeezi mid-morning show hosted by Robinah Mbabazi a.k.a Bina Baby, on Dembe FM, he also urged the youth to always cherish their respective cultures and asked the media to play a central role in mobilizing Ugandans to warm up to the Historical, Grande Kyabazinga's Royal wedding.
"We are happy to be here today as part of a celebration of Uganda's cultural diversity and we appeal to the media in general to always put culture at the fore as a catalyst for development. We also appeal to the NMG-U to take the lead in the mobilization of resources for the forthcoming royal wedding slated for November 18, 2023, through their various platforms" said Owek. Noor.
Owek Noor was flanked by Owek. Yudaya Babirye Kigenyi, the Minister for Kyabazinga Affairs who emphasised the kingdom's commitment to uplifting the women and youth of Busoga through the various development programs.
"I can't over-emphasize His Majesty the Kyabazinga of Busoga's commitment to empowering women, as seen in our representation in his cabinet, and coming up with several programs specifically targeting youth and the young people", she said.
The NMG Cultural Day, the first of its kind to be organised by the company was meant to give employees a chance to celebrate Uganda's cultural diversity.
According to Ms. Elizabeth Namaganda, the NGM-U Marketing Manager, the day was also organised to coincide with the independence month of October, just days after Uganda marked her 61st independence anniversary on October 9th.
She emphasized the importance of having corporate companies like NMG-U work with cultural institutions to promote inclusion and diversity.
"We have a staff base that hails from different regions of Uganda. For our staff to feel valued, we need to recognise their cultures by creating a special moment to celebrate them", said Ms Namaganda.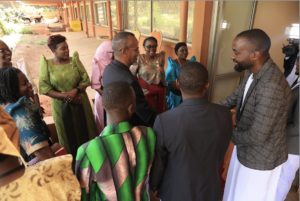 The day's activities also included cultural dancing competitions, modeling, and showcasing of various traditional dishes.