By Damali Mukhaye.
A group of youth have stormed parliament with a coffin condemning the manner parliament is handling the murder and kidnap of women and children which has hit the country currently.
The group led by lutta Ferdinand dropped a coffin at Parliament to show their dissatisfaction and accusing members of Parliament for neglecting the issues affecting the country.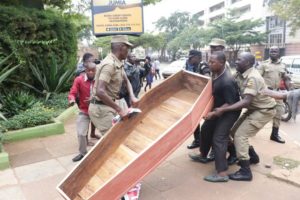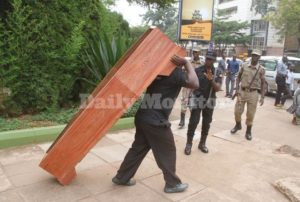 Police swung into the action and arrested two including lutta and Achom Beckie.
The clime that Over 20 women and children have been kidnapped for ransom while others murdered in the period of three months, but parliament is busy discussing politics.
However recently the committee of defense and internal affairs quizzed the new police commander Okoth Ochola for failure to reduce these kidnaps.