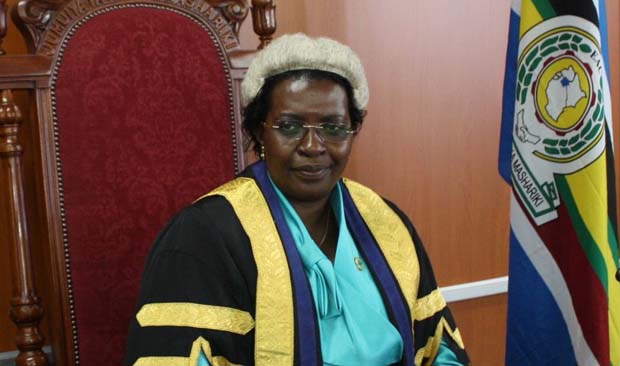 The East African Community Secretary General has been sucked into the standoff at the regional parliament.
Suspended East African Legislative Assembly Speaker Margaret Zziwa has blamed her woes on Dr. Richard Sezibera , who she accuses of plotting her censure.
Addressing press conference at Serena Conference Centre today, Ms Zziwa, who was flanked by her lawyers, fellow regional legislator Suzan Nakawuki and Buganda caucus chairperson, Godfrey Kiwanda, spoke off cuff for over forty-five minutes but only blaming what she termed haters problems.
She said Mr Sezibera is an already manipulated man and now funding the motion to and supporting her haters to see her off.
"He has been manipulated and he is now facilitating the motion so that they see me off," she said.
The Secretary General has however dismissed the accusation as absolute nonsense saying his role is to support whomever the assembly votes as speaker and not to fight them.
"That motion was supported by over thirty two people. I had no role in it. I am an ex official and I do not vote, neither do I sponsor motions," he said.
He added, "My record in supporting the office of the speaker is clear. I supported that officer when her predecessor was there. I did so when she came and I do so with whomever the assembly picks as speaker."
Zziwa has also vowed not to appear before the committee meant to investigate her alleged misconduct.
She was suspended last week and replaced by Chris Opoka as interim speaker to allow the legal and privileges committee to investigate the allegations leveled against her with in 21days.
Zziwa however says she cannot avail herself to a committee chaired by Dorah Byamukama, who she alleges is behind illegal suspension.
Zziwa's woes stem from an impeachment motion tabled in April by Peter Mathuki, a Kenyan EALA representative  referring to misconduct, poor governance, poor leadership skills, abuse of office, and disrespect of members and staff.
This move collapsed, since Zziwa ruled on the Motion for her removal to have fallen short of the requirements of signatures of at least four elected Members from each Partner State.