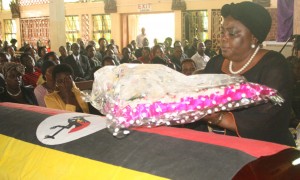 The late Stanislus Okurut has been described as an honest and frank leader that the country has lost at a critical moment.
Speaking at the requiem service held in his honor at Christ The King Church this morning, the First Lady Janet Museveni asked the family of the deceased to remain firm.
She has urged the family to continue contributing to the development of this country and finish the work started by the former sports minister.
Meanwhile the widow, also minister for Gender, Labour and Social Development Mary Karoro Okurut has described Okurut as an irreplaceable friend.
Okurut succumbed to heart failure on Saturday.
The body will tomorrow be taken to parliament where it will lie in state from 10:00am to 1:00pm for Public viewing after which a special sitting shall be held for Members of Parliament to pay tribute to the deceased.
Burial is slated for
Wednesday in Ngora district.