Arsenal manager Arsene Wenger has told the BBC that he has been invited by the new Liberia president George Weah to his inauguration later this month.
Wenger was Weah's manager at French side Monaco between 1988 and 1992 but he is not sure he will able to attend.
"I have been invited by George to come to the day where he will be the President," he said.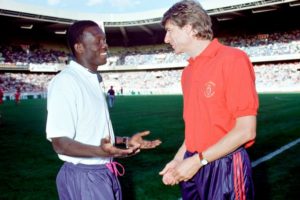 "I believe I will be busy but if I am suspended (for his comments on referees) I will have time to go."
The Arsenal boss admits he still finds it hard to believe what Weah has achieved.
"The life of this guy is a real film. It is unbelievable. It can make a fantastic film,"
"Today when I look back I see him crying when war was on in Liberia so it's a happy story.
"I wish he has a happy presidency and I would like to say this guy is an example for everybody who plays football today."
Weah won a presidential run off poll last month beating Joseph Boakai with more than 60% of the vote.
He will succeed Ellen Johnson Sirleaf, Africa's first elected female president.
Story By BBC SPORTS