By Judith Atim:
The government has spoken out on the contentious age limit bill promising that nationwide consultations will be held to get views of the citizens on whether or not the presidential age limit should be amended.
The Prime Minister Dr Ruhakana Rugunda and the government chief whip Ruth Nankabirwa have addressed the press on this matter.
According to Dr Rugunda, Several groups including religious, political and civil society actors have raised issues with the motion by Igara West MP Raphael Magyezi and he says it shows that it is an important.
He has also regretted last Thursday's fist fights in the house after a number of MPs opposed to the age limit removal were suspended from the house, emphasizing that what the country needs is dialogue.
Yesterday Magyezi tabled the motion for its first reading and the speaker Rebecca Kadaga forwarded it to the committee on legal and parliamentary affairs for further scrutiny and the committee will report back to the house after 45 days.
During this period of time, the committee will invite the public and other institutions to present their views in order to inform its opinion.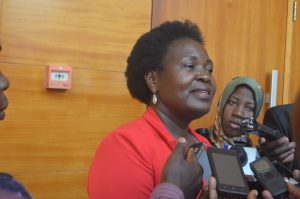 Meanwhile…..
The government Chief whip Ruth Nankabirwa says MPs have requested for time to go out and consult the electorate on the proposed constitutional amendment to remove the presidential age limit and they are expected to conclude the consultation within the 45 day time frame.