Road safety activist, Mr. Joseph Beyanga commonly known as Joe Walker, was on Saturday, June 17 joined by friends to hold yet another walk in a bid to raise awareness about the increasing road crashes in the country. 
Dubbed Kampala Hill to Hill Walk, the drive attracted a number of walkers from Kampala who thronged Sheraton Hotel, the starting point, by 5:45am ahead of the walk that kicked off at 6am. The group started with warm-up exercises before hitting the road moments later. 
The walk was flagged off by Dr. Rose Byanyima, the Mulago National Referral Hospital Executive who called for collective efforts to curb road accidents that kill about 12 – 14 people every day.  
"It is an honour to be here because when I have less accident victims, then I can have sleep. I take this privilege to flag off the walk," Dr. Byanyima said in a brief speech. 
The group rested twice before making their way back to Sheraton Hotel, Kampala, their final destination. The first stop was at Sankara Library in Bugoloobi which is about 15km from Sheraton through Kamwokya, Bukoto, Ntinda, and Nakawa suburbs. 
Speaking to KFM, Anita Komukama, a biker who participated in the walk noted that there is need for road safety awareness in a bid to keep pedestrians and motorists safe.
"Let's participate in road safety, let's make sure that we are looking out for pedestrians and bikers. I'm a biker so I know what it means to be on the road and to be safe and also for other motorists," Komukama said.
Fresh after doing a few stretches, the group embarked on their journey before resting for the second time at Melbourne Car Wash and Restaurant, Lukuli – Makindye Division where they had their lunch. At this point, they had covered 32km with only 13km remaining. 
Joe Walker and friends finished their walk at 3:24pm before doing cool-down exercises at Sheraton Hotel gardens in Kampala. 
Commenting on his experience, Mr Beyanga said the walk was a unique one with a record 9:23 minutes per kilometre. He further called for more pedestrian walkways on Kampala roads just like the Ntinda and Lukuli roads. 
"Today's experience was a unique and exciting one. I think as a group, it was our fastest 45km. We did an average of 9:23 minutes [per kilometre] which means people's bodies are getting better if you compare this with when I started walking one and a half years ago," Beyanga said. 
"What I encountered is some good roads, good drivers and there are also bad roads and some very bad drivers. We need more roads to be made just like the way the Ntinda stretcher and Lukuli roads are where there is at least a provision for pedestrians to walk safely," he added.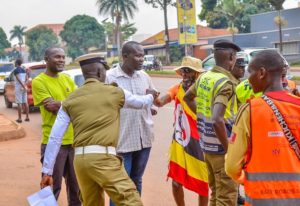 According to Mr Beyanga, fellow walkers were amazed by the love other Ugandans have for their country and flag.
"Ugandans love their flag, whenever they saw the Ugandan flag, being put up, everybody stopped and they said 'Uganda, Uganda, Uganda' and that was beautiful. People love their country but they are also asking for better facilities so that they can enjoy their city," Beyanga said.
Joe Walker has previously held two walks – Kampala to Bushenyi (342 kilometres) and Kampala to Mbale (246) kilometres.