The Inspectorate of Government has accused some politicians of sabotaging its investigations.
This comes just a day after the president Yoweri Museveni re-echoed the call for all Ugandans to join government in its efforts to wipe out corruption in the country.
According to the Inspector General of Government (IGG) Justice Irene Mulyagonya, whenever investigations into corruption scandals launched, politicians rush to her office pleading for lenience on behalf of their implicated colleagues.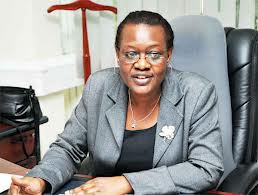 She says that on several occasions they have found themselves directly fighting with politicians who attempt to conceal implicating evidence.
Earlier, the Inspectorate of Government signed a Memorandum of Understanding with the Finance Intelligence Authority, a move that is aimed at bolstering the fight against money laundering in Uganda.
This comes in the wake of the enactment of the Anti-money laundering act which provides for the creation of this authority to fight money laundering in Uganda.
Addressing the media earlier today, the authority's executive director Sydney Asubo said under this arrangement they will be sharing information formally with the IGG to enable quick prosecution of culprits.
He adds that Uganda has been identified as one of the destinations for laundered money from neighbouring countries, while culprits from Uganda mainly keep their ill-gotten wealth in countries like DR Congo,  Kenya,  Dubai , Sudan and others.
Story By Samuel Ssebuliba