In a bid to reduce air pollution, road safety champion, Joseph Beyanga commonly known as Joe Walker alongside State Minister for Kampala and Metropolitan affairs, Mr. Kabuye Kyofatogabye led a group of walkers as Uganda held a car-free day in Kampala on Sunday March 26, 2023 under the theme "road safety and air quality."
Minister Kyofatogabye who was among those who preferred riding to walking highlighted the need for encouraging non-motorized corridors.
"Can you imagine without police people managed to organize themselves?" Kyofatogabye said, adding that if the use of non-motorised corridors was encouraged and people observed the cycling lane the city would be better organised.
On his part, the optimistic Beyanga noted that vehicles are the biggest air polluters but there is still hope to reverse the worsening air challenge in Uganda's capital, Kampala.
"This was an experiment to promote the co-existence of all road users. We were able to have cyclists, pedestrians; we had other people doing exercises and painting faces in the same space," Beyanga said while explaining the idea behind car-free day.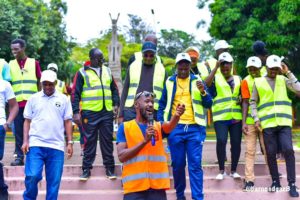 "We need to plan, design and implement inclusive infrastructure that also caters for safe use of non motorized means of transport for sustainable development," Beyanga tweeted on Sunday.
According to David Luyimbazi, the Kampala Capital City Authority Deputy Executive Director, Kampala is one of the cities with the worst air quality worldwide, further explaining that holding a car-free day is one of the many steps towards reducing air pollution.
"We were trying to protect the environment from vehicle emissions which compromise the air quality. We managed to have uncontaminated air free of chemicals that cause lung-related diseases," Luyimbazi told journalists on Sunday.
Nile Avenue, Speke Road, Luwum Street and Buganda Road, among others were on Sunday closed off as walkers hit the road on foot and others on bicycles.