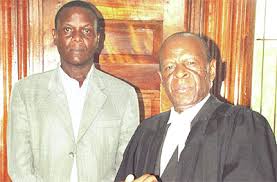 The court of appeal has upheld a life imprisonment sentence to businessman Kato Kajubi.
The three judges led by Remmy Kasule said the trial Judge in Masaka Michael Chibita properly evaluated the evidence brought forward before passing judgment.
The judges also say that a telephone print-out from MTN shows that Kajubi was in constant contact with Umar Kateregga, the traditional healer who confessed to have sacrificed the 13 year old boy Joseph Kasirye.
They concluded that Kajubi did not deserve any lighter sentence and should serve the life sentence handed to him.
Kajubi together with Umar Kateregga and Mariam Nabukeera sacrificed joseph Kasirye, an act that attracted mass public criticism.