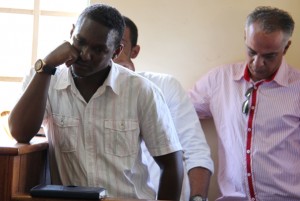 Adam Kalungi has been handed a 4-year prison sentence for causing the death of former Butalejah Woman MP Cerinah Nebanda.
According to the Makindye Court Chief Magistrate Esther Nambayo Cerinah Nebanda's death was a result of multiple organ failure due to alcohol and drugs.
The magistrate has however maintained that Kalungi was negligent when he delayed to take the late Nebanda to hospital, which caused her death.
However, speaking shortly the sentence was read, one of the lawyers representing Kalungi Nsubuga Mubiru said they intend to appeal against the decision.
Kalungi was on January 31st convicted of manslaughter after he was found guilty of causing the death of the former legislator.
He was convicted on the charge of manslaughter but cleared on others relating to being in possession of narcotic drugs.
Also convicted was one of his co-accused Ali Umar, who was found guilty of being in possession of narcotic drugs for which he has been given a 1-year jail term.
The other four were earlier set free.
Karungi and his co-accused are alleged to have committed the offences on 14th December 2012 at Buziga in Makindye division a Kampala suburb.