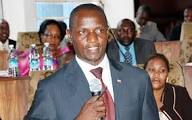 The deputy lord mayor Sulaiman Kidandala has admitted to meeting the Inspector General of Police Gen Kale Kaihura.
Addressing the media in Kampala this afternoon, Kidandala said that he met Gen Kaihura in Masindi to give him a detailed report on what is happening in the city.
He however says he has never asked for any money as alleged in the leaked recordings.
He says the recordings have been distorted with a purpose of tarnishing his name.
Kidandala says he still stands by the Lord mayor Erias Lukwago asking the public not to trust the recordings.
In the leaked recordings, a man purported to be Kidandala along with another unidentified man were discussing the political situation at KCCA with General Kaihura.
The unidentified man however goes on to ask for money to help in containing the situation at the city hall.