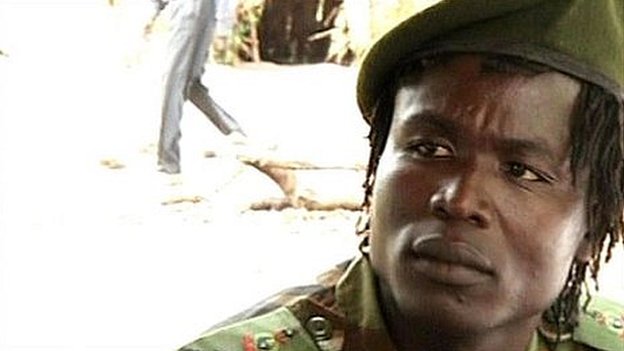 Dominic Ongwen, a senior commander of the Lord's Resistance Army is to be sent to the International Criminal Court for trial.
This has been confirmed by the army spokesperson Lt col Paddy Ankunda. "Finally it has been decided. Domnic Ongwen will be tried at the ICC in the Hague. Domnic Ongwen will be conveyed to the Hague by CAR authorities", read Lt Col. Ankunda's tweet.
Ongwen considered by some to be a deputy to LRA chief Joseph Kony, was taken into US custody last week.
Rebels in the Central African Republic said he was captured; while US officials say he defected.
Both Ongwen and warlord Joseph Kony are wanted by the ICC for crimes against humanity.
According to Ankuda, the transfer will be made by the CAR, where Ongwen – also known as the White Ant – had surrendered.
In his defection message recorded on January 9th in Obo CAR, Ongwen implored other rebels to come out of the bush and return home and avoid death from the harsh conditions including hunger, disease and threat from the various forces.
Relatedly, Democratic Party President, Nobert Mao, has urged government to consider the Juba Peace talks while dealing with former LRA senior commander Dominic Ongwen.
Addressing journalists at the party headquarters in Kampala today, Mao who was the Gulu District chairperson at the time of the talks said some resolutions were made which can favor Ongwen who surrendered to US forces recently.
"The talks provided for domestic and traditional mechanisms which include the Acholi Justice and Accountability system that can be applied in resolving his issues," Mr Mao said.
He added that government should respect the agreement because it has a provision on how to deal with those referred to ICC.
Earlier today, the President said he had no prerogative to forgive rebels who commit crimes against humanity.
This followed reports alleging that ICC fugitive had received a Presidential Pardon from President Yoweri Museveni.
Several leaders in Northern Uganda have also called for forgiveness of Ongwen arguing that he was only abducted and had no control over crimes he committed.
However, in a statement to Kfm this afternoon, the president's deputy press secretary Linda Nabusayi, explained that amnesty is provided to rebels who renounce involvement in war against the state or the Constitution.