By Mike Sebalu   
Property worth millions of shillings perished in an inferno that gutted a commercial building in the heart of Mityana town on Friday morning. The building had businesses like bookshops, stationery shops, vet shops, and photography studios among others.
Eyewitnesses say the fire started at around 3 am, adding that the shop owner could not get any help from police as the district fire vehicle was reported to have developed a mechanical problem.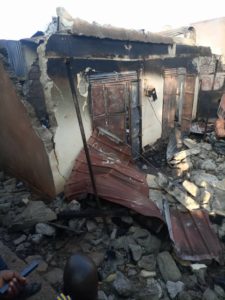 While the cause of the fire is yet to be established, eyewitnesses suspect it was sparked by electricity
"The building majorly had stationery and veterinary shops but all have been gutted. We managed to put out the fire but failed because even the neighbors could not cooperate with us as we lacked water. Police said their firefighting vehicle has a mechanical problem and the only alternative was to call for one from Kampala. Even the one from Kampala by the time it arrived, the whole building roof had collapsed in," the eyewitness, who did not identify himself told this reporter.