By Ruth Anderah. 
Mowzey Radio's suspected murderer Godfrey Wamala alias Troy has been remanded to Kigo government prison by Entebbe magistrate's court.
Troy a businessman and a resident of Kyengera LC1, Nsangi Town council in Wakiso district, on January 22nd 2018 is said to have thrown Mowzey Radio to the ground during a brawl at a bar called "De bar " in Entebbe.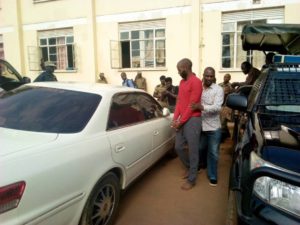 The suspect has appeared before chief magistrate Mary Kaitesi for formal reading of the murder charge.
He was however warned not to enter plea as murder is a capital offense which is only tried and can only granted bail by the High court.
Troy has now been sent on remand until February the 26th 2018 after the resident state Attorney Julius Muhiirwe informed court that police investigations are incomplete.
Troy has been represented by renowned Human rights lawyer Ladislous Rwakafuuzi yet Mowzey Radio's family had John Bosco Mudde on watching brief.