Zimbabwe's President Robert Mugabe last evening surprisingly resigned after a stand off with with his own party Zanu PF and the Army.
A letter from Mr Mugabe said that the decision was voluntary and that he had made it to allow a smooth transition of power.
The surprise announcement halted an impeachment hearing that had begun against him.
Lawmakers roared in jubilation and people have begun celebrating in the streets.
A letter from Mr Mugabe said the decision was voluntary, Reuters news agency reports.
The surprise announcement came as lawmakers debated an impeachment motion against Mr Mugabe in a joint sitting of parliament.
Mr Mugabe had previously refused to resign despite last week's military takeover, and days of protests.
He has been in power since independence in 1980.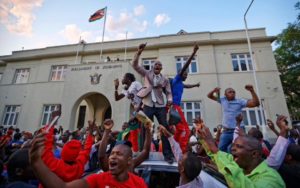 Then after Wild celebrations hit Harare Zimbabwe as people cheered Mugabe's resignation.
Meanwhile Mugabe's resignation letter was short: 'I Robert Gabriel Mugabe in terms of section 96 of the constitution of Zimbabwe hereby formally tender my resignation… with immediate effect,' – parliament speaker Mudenda, reading the letter. @AFP