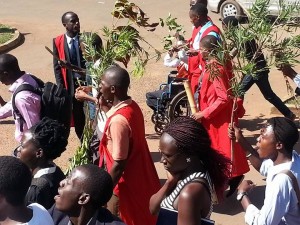 A meeting is underway between Makerere university student leaders and the university vice-chancellor Prof Edward Ddumba.
It follows this morning's strike in which the students were protesting the delay in accessing the faculty funds for government sponsored students.
The government sponsored students were also joined by private students who were protesting the policy to have them clear tuition in the first six weeks of the semester.
One of the students who spoke out in the dialogue meeting voiced his frustration at the university.
"The government has supported me well right from High school up to this university. When I came to this university, the government thought it wise that they need to support us because they know that government (sponsored) students are guaranteed of financial support from elsewhere," the unnamed student said.
He said they need to photocopy handouts, type and print their course works but they are not being paid.
However, the Vice chancellor John Ddumba Ssentamu said that he was only following policies drafted before his assumed office.
He says the previous university leadership converted the faculty fund into the university special faculty fund to buy books and other necessities for faculties.
He has however promised that he would look into the matter.