Mr. Michael Arima from Luweero District has won Shs1 million in the KFM Make Me a Millionaire promotion that is currently running on 93.3 KFM, a subsidiary of Nation Media Group. In partnership with SafeBoda, the radio station plans to empower the community by awarding one lucky listener with Shs1 million every week. 
Additionally, other participants who fulfill the terms and conditions of the promotion but wish not to enter the Shs1 million draw win Shs 20,000 daily. 
In an interview with KFM, Arima revealed that he was forced to drop out of school due to lack of school fees, adding that he would resume his studies if he won the money. 
"Some five years back, my parents divorced. Now our father refused to pay our school fees so I'm planning to go back [to school] next year," Arima said before winning the money. 
" I'm not in school right now but I'm planning to head back next year probably… I can't use this money immediately because it means a lot to my life. This money is going to transform my life. I encourage the listeners out there to keep listening to KFM," he said on Monday moments before receiving the Shs1 million. 
On his part, Mr Douglas Kikonyogo, the Communications Officer at SafeBoda noted that the promotion also aims at making dreams come true. 
"As safe boda, we expanded beyond just the boda boda service and we currently offer car services to our customers. But key here is beyond being a safe and reliable brand, our mission is to empower communities to thrive, and being part of this remarkable KFM Make Me a Millionaire campaign, we are not just giving away cash but we are also making dreams come true. If you listen to Michael's story, you can definitely know that he is more than just lucky," said Mr Douglas Kikonyogo, the Communications Officer at SafeBoda.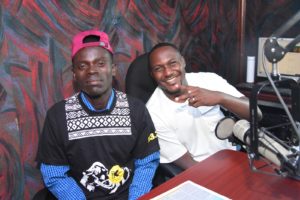 You too could be a millionaire; simply listen out for the KFM money song; write down the time you heard it, the show, and tell us why you want to be a millionaire.
Check out more photos from the handover ceremony below;