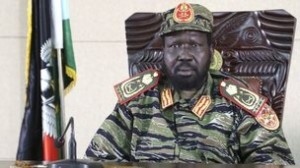 The government of South Sudan has rejected demands by rebels for the president to step down.
The group loyal to former vice president Reik Machar want president Salva Kiir to step down as a precondition for the formation of a unity government.
Meeting his Ugandan counterpart Edward Sekandi in Kampala, the vice president of South Sudan James Wani Igga said such calls are baseless, unprecedented and cannot be accepted.
He also hailed Uganda for its support to the South Sudan government.
He is in the country to collect views from the South Sudan Nationals to contribute to the ongoing peace negotiations between the government and the rebels.