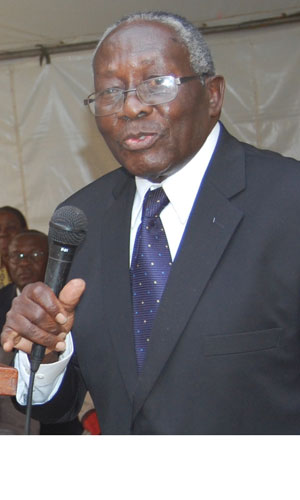 Family members say Makerere University's Prof. William Senteza Kajubi could have died of a stroke.
Kajibu was found dead in his bathroom at 8.00am this morning.
His son Waswa Kajubi says he has not been sick and they suspect that he could have suffered a stroke.
Kajubi is survived by 11 children, who include 3 pairs of twins and his body has been taken to Mulago Hospital for postmortem tests.
One of Uganda's foremost thinkers in education, Kajubi was educated at Makerere University 1947 to 1950.
He joined the University of Chicago in the USA where he earned a M.Sc. degree with a concentration in geography.
He contributed significantly to the shaping of the education system from the 1960s to 2000s through advocacy of his theory of education, policy formulation and leadership.
He taught at King College, Buddo for three years before becoming a lecturer at Makerere University.
From 1964 to 1977 he was Director of National Institute of Education, at Makerere University.
Professor Senteza Kajubi served the education sector in Uganda for over 60 years as a teacher, educator, education policy advisor, and leader of tertiary and higher education institutions in Uganda.
He was also a consultant for national education system in Namibia at the time of independence.