Rapper 2 Chainz took the opportunity to propose to his girlfriend, Kesha Ward, on the steps of New York's Metropolitan Museum of Art on Monday evening.
The American rapper surprised everyone – especially long-term girlfriend Nakesha Ward – as he asked her to marry him.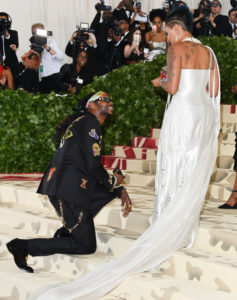 2 Chainz real names Tauheed Epps, proposed to his longtime girlfriend, Kesha Ward, as the pair walked the red carpet Monday night.
Surprisingly, proposed to Nakesha at the BET Awards in June 2013 but they never went ahead with the wedding.
Nakesha, who has three children with the star including daughters Harmony and Heaven and son Halo, was seen wiping tears from her eyes as she said "yes".
She told reporters during E!'s livestream: "It's crazy, he just gave me this! So happy! I love it."