By Khalil Ibrahim Manzil & Karim Mayobo
Government has been asked to develop a curriculum for driving schools as one of the ways to ensure road safety for all.
The call was made by Joe Walker, a dedicated advocate for road safety, at a news conference held in Kampala to launch the Joe Walker 60-kilometer walk on Tuesday ahead of the World Day for remembering road crash victims slated for November 19.
On November 19, the world will remember the 1.35 million people who lose their lives in road crashes each year, with Uganda alone accounting for over 4,500 of these tragedies.
"Uganda faces a staggering loss of more than 4,500 lives annually due to road crashes, translating to over 13 people per day", said Joe Walker.
Addressing the same press conference, Dr Peninah Kagina, an Orthopedic Surgeon at Mulago Hospital confirmed that the National Referral Hospital on average the facility is receiving 50 to 70 patients per day who are involved in road crashes.
"Mulago hospital on average we see between 50 to 70 patients per day victims of road accidents," Dr Kagina said.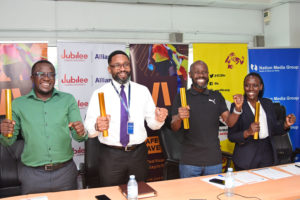 She added, "In 2019-2020, there were about 35,000 admissions due to tremor on road accidents in our regional hospitals and National Referral, and in 2022 the numbers have gone high, they are about 48,000".
As one of the commemorative activities, the Joe Walker and Friends Initiative has organized a Remembrance Road Safety Relay Walk to further raise awareness about the urgent need for safer roads in Uganda.
Joe Walker, whose real name is Joseph Beyanga, the head of radio at Nation Media Group Uganda (NMG-U), says the event also advocates for evidence-based actions to prevent future road traffic deaths and injuries.
Joe Walker explains that the relay walk that will kick off at UMA Logogo Show Grounds will be conducted in teams of six participants, with each team member walking a minimum of 10km before passing the relay button to the next teammate.
"Each relay team must include at least one member of the opposite gender and cheerleaders and pace setters are encouraged to join the event to provide encouragement and support along the route, creating a festive and lively atmosphere", explained Joe Walker.
Mr Paul Kavuma, Chief Executive Officer, Jubilee Allianz Company said that according to police, many lives arelost annually due to road crashes, which he attributed to reckless and careless driving and riding behavior.
"We call upon the lawmaker to first arrest those big people in the offices who violate and break the law by driving on the pavements. They should be investigated and arrested," Mr Kavuma said.
Mr Joshua Watwaluma, the brand manager of Daily Monitor Publication as well as the East Africa Newspaper said NMG will provide coverage for the walker.
He says participants are encouraged to register for the walk though: https://joewalker.org/joe-walker-rememberance-walk/