Mr Olao John Bosco, a private security guard working with Magnum Security Company Ltd has been declared the third winner in the KFM Make Me a Millionaire promotion that is currently running on 93.3 KFM. The promotion is sponsored by Uganda's fastest-growing transport company, SafeBoda. 
Originally from Lira district, the excited Olao reechoed his plans to buy land, moments after receiving the Shs1 million cash prize. 
"If you follow what those people [presenters] are saying on KFM, automatically you will become a winner. I wanted to be a millionaire because I have never seen my father. I want to buy land because I don't have anything to inherit," Olao told KFM.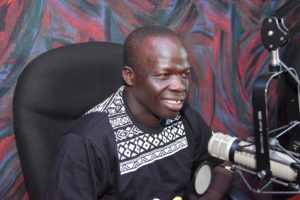 Olao, who pursued vocational studies after completing his Senior Four says he came to Kampala looking for employment opportunities last year, little did he know he would win a million months later. 
In an interview with KFM's Brian Mulondo on D'Mighty Breakfast show on Monday, Mr. Christian Wamambe, the VP for payments and driver well-being at SafeBoda expressed the transport company's interest in continuing to empower communities to thrive. 
"SafeBoda is happy to always participate in helping people achieve their goals and beat all the odds. It makes me very happy to hear that everywhere there are people going against the tough challenges they face and we are happy to be part of that journey," he said. 
 You too could be a millionaire; simply listen out for the KFM money song; write down the time you heard it, the show, and tell us why you want to be a millionaire.