Serena Williams the best women's tennis player of this era and one of the world's most prominent athletes, confirmed on Wednesday that she was pregnant and expecting her first child later this year.
Williams, 35, has not played a match since winning her 23rd Grand Slam singles title at the Australian Open on Jan. 28, when she was already close to two months pregnant.
More major titles will have to wait, if they happen at all. Williams will turn 36 in September, but her spokeswoman Kelly Bush Novak said that while Williams would miss the rest of the 2017 season, she intended to return to the circuit in 2018.
"Serena said that I should make sure if anyone asks that that is clear," Bush Novak said in a telephone interview on Wednesday.
The announcement was the latest surprise from Williams, who unexpectedly announced her engagement to Alexis Ohanian, a businessman and the co-founder of Reddit, in December.
"I'm elated for her; I've seen her with our son, and she will be a great mother," said Andy Roddick, a former men's world No. 1 who is a good friend of Williams and has known her since childhood.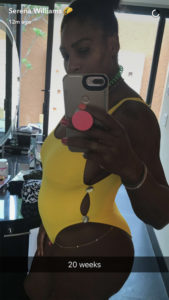 Williams's pregnancy was confirmed after a wild day of speculation that began when a photograph was posted on Williams' Snapchat story, perhaps inadvertently, that showed her posing sideways in a yellow bathing suit with what looked like a baby bump. The image, which appeared to be taken in a mirror, was captioned "20 weeks" and later deleted.
Williams is the second leading women's tennis player to announce a pregnancy in the past year. Victoria Azarenka, a former No. 1 player and a two-time Grand Slam titlist, left the circuit in June and gave birth to a son, Leo, in December. Azarenka, 27, is planning to return to competition in late July after Wimbledon.
Williams has won 10 of her 23 major singles titles since turning 30 and is by far the oldest women to hold the No. 1 spot in the WTA rankings.