By David Kugonza
Mbuga is setting up Nu-Shifah Hospital hospital in Kiwempe Makindye but before it's completed he is in need of hospital services. News reached our desk last evening that Sulaiman Kabagala Mbuga a.k.a SK Mbuga was involved in a nasty motorbike accident after failing to negotiate a sharp bend a few yards from his home and crashing his BMW motorbike into the wal. He was later admitted at Nakasero hospital after and now we an inside source has revealed to us that the tycoon's condition is not alarming, that he is out of danger and is improving fast to treatment and only very close and exclusive friends to Mbuga are allowed to access him as doctors carry out necessary tests to un cover the extent of the injuries.
SK Mbuga owns a a long fleet of cars which include a few Hammer(s), A fancy Jeep Cherokee that he is seen driving most times, range rover(s) to mention but a few and that's before we get to the Red Ferrari and Rose Royce but is also a lover of cycles. SK owns a few expensive solar bikes and two expensive motor bikes.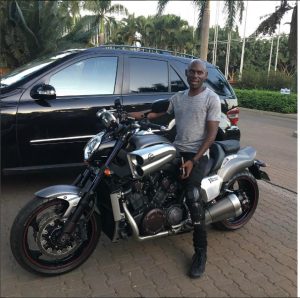 After marrying Angela Vivienne Jalia Mbuga laste year in November, SK bought himself a gift and acquired another expensive BMW bike to add to his long list of toys but it its earlier acquisition that was involved in the accident.
SK Mbuga's accident comes days after his friend Ivan semwanga died after suffering a stroke before he died in a South African hospital.
Get Well Soon SK