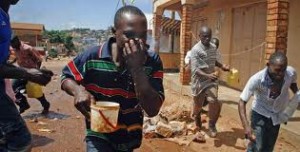 Police used teargas to disperse supporters of DP candidate Brenda Nabukenya in Luweero.
Nabukenya was leading a procession after nomination.
FDC president Maj Gen Mugisha Muntu blames the chaos on police that he says unnecessarily used force.
However Southern region spokesman, Lameck Kigozi says that the supporters had blocked the road to Gulu.