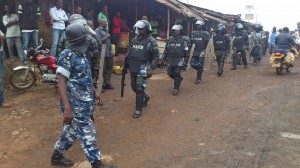 The police have foiled a planned terror attack on Makerere University.
The police are heavily deployed at Makerere University following a reported terror threat.
The police say they received information of a student who was called by unknown people who reportedly promised him 15 million shillings if he dropped a parcel at the College of Computing & Information Sciences.
The deputy police spokesperson Polly Namaye says police have already interrogated the students and important information has been received.
She says the Joint Anti- terrorism task force and police are closely following up a group of people suspected to be behind this attempted attack.