By Ssebuliba Samuel:   
In Kenya: government has gazetted Tuesday, November 28, as a public holiday to pave way for President Uhuru Kenyatta's swearing-in for a second term.
Similarly, the Assumption of Office of the president committee chaired by Secretary to the Cabinet Joseph Kinyua has gazetted the Moi International Sports Centre, Kasarani, as the venue of the function that should by law be held not earlier than 10am and not later than 2pm.
The law requires that the day of the swearing-in be declared a public holiday, and the venue of the function be gazetted beforehand.
The swearing-in follows Monday's Supreme Court decision to throw out a petition challenging Mr Kenyatta's second term win.
President Kenyatta will take the oath of allegiance, and the oath of due execution of office, before signing them.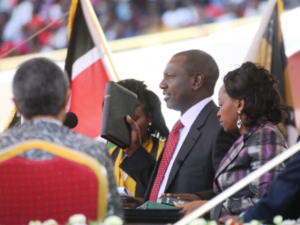 Deputy President William Ruto will also take the same oaths for his office.
The oaths will be administered by the Chief Registrar of the Judiciary Anne Amadi before Chief Justice David Maraga, who will receive the signed copies of the oaths taken by the Jubilee duo.
The oath will be followed by a 21-gun salute, an honor the military gives to welcome their new commander-in-chief, who in this case, will have extended his term.
According to Daily Nation about 13 others will be sending their country's second-in-command, a special envoy or a minister.
Top on the list however of the heads of state attending Kenyatta's second and final term swearing-in is Israeli Prime Minister Benjamin Netanyahu, Uganda's President Yoweri Museveni, Rwanda's Paul Kagame, John Pombe Magufuli of Tanzania, Edgar Lungu of Zambia, Mohamed Farmajo of Somalia, and Prime Minister Hailemariam Desalegn of Ethiopia.
Countries that will send the second in command are Nigeria, Guinea, Angola, Democratic Republic of Congo, Burundi, and Yemen.
Senegal, China and Japan will send special envoys while South Africa, Britain, Ukraine, and India will send ministers.