By Stephen Mbidde
Mzee Bonifance Byanyima, a former head teacher at Mbarara High School also a one-time national chairman of the Democratic Party has passed away at Nakasero Hospital in Kampala.
Byanyima is the father of Winnie Byanyima the executive director of Oxfam International and wife to the opposition party, FDC leader, Dr Kizza Besigye, a four-time presidential candidate.
Tributes are flowing in from politicians, friends and family members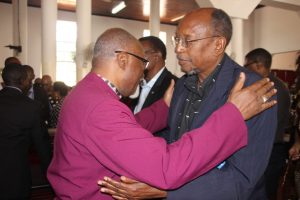 Mzee Yona Kanyomozi- Seasoned Politician
It's too absurd; I was one of the few students he gave a present as having the best student in History at Mbarara High School.  He helped a lot in shaping my Political career and worked for transformation of Ankole.
He was one of the most principled persons I have ever met in my life who had no discrimination, who stood by what he believed in and although he wasn't in the Party some of us belonged to, but we all had high regard for him.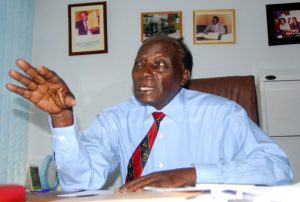 Justice George Kanyeihamba – Former Chief Justice
I knew him very well; occasionally whenever I was travelling to Kabale I would pass to check on him. He was a man of great intellect, integrity and of great courage. He advised everyone who feared no one except God. He was a very royal pillar of the Democratic Party, he has died believing that the modern politics has diverted from original objectives of Political parties to serve people and they are now pursuing selfish motives, power and revenge of those they think don't like them. But he achieved a lot for this country who also mentored the current President and many leaders.
Hon. Augustine Ruzindana- Former IGG
It's indeed a great loss, that Independence generation is eroding away and not very many people of that caliber is left. Mzee Byanyima was a man of integrity and honesty that's quite rare and evenmif it meant not being not in his interest but in public interest