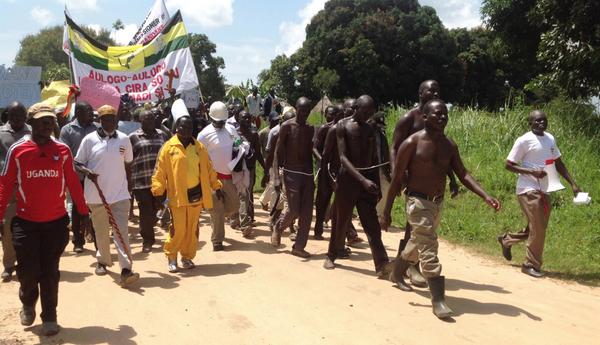 Two people have been injured in a night attack on Wano village in Moyo district.
According to the police, the attack by suspected South Sudanese was retaliatory after some of their huts were burnt down in Monday's violent protests in Moyo town. The riots were sparked by a dispute over a border piece of land claimed by both the Ugandan and South Sudan Communities.
The Regional Police Commander North West Nile, Dan Byaruhanga says the situation is under control and investigations are going on.
He said preliminary investigations indicate that armed South Sudanese attacked Thomas Akuku, 31 and Patrick Vukoni, 42 all residents of Wano village.
He said some herds of cattle, goats and food items were also stolen.
The two that were hacked with machetes are currently admitted at Moyo hospital with serious injuries on the arms and backs.
The Police Director of Operations, Andrew Kaweesi has warned the local community against taking the law in their hands.