By Damali Mukhaye
Ugandans have been given seven days to verify their sim card registration details using national identity cards or else they will be deactivated.
This has been agreed upon during a closed door meeting between the Police Chief Gen Kale Kayihura, the Uganda Communication Commission officials and service providers from different Telecom companies in Bugolobi.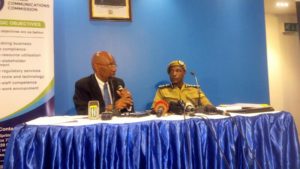 Speaking to journalists after the meeting, the UCC executive  director Godfrey Mutabazi says that although they had earlier directed telecom companies to deactivate unregistered sim cards, all Ugandans who registered their sim cards using documentation other than the national IDs should verify their sim cards now, while foreigners will be required to use their passports.
Mutabazi adds that vendors selling unregistered sim cards on the streets of Kampala must stop immediately or they face arrest, asserting that only authorized outlets will be allowed to sell sim cards.
He notes that all companies are going to be served with an official directive by close of business today to ensure that all sim cards that are not verified within the next seven days or their licenses will be suspended.