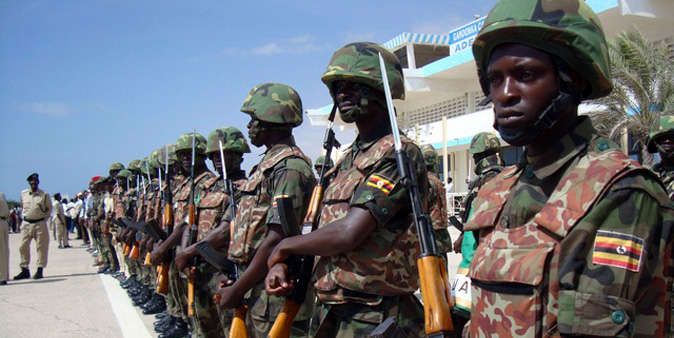 The Army says claims of nonpayment by veteran soldiers who served with the AU mission in Somalia are wild allegations intended to attract public sympathy.
In a statement, UPDF spokesman Lt. Col Paddy Ankunda has warned the soldiers making such claims that they risk arrest and prosecution.
The army has also provided a list of 38 claimants it says failed to meet requirements of the standing operating procedures of AMISOM leading to their repatriation.
The 38 are said to have served in Somalia between 2012 and May 2013 but did not complete their mission time.
The army says they cannot claim payment for the time they did not work.
According to Ankunda, persons repatriated or unofficially out of the mission area for 21 days, or who quit the mission, are not payable from the time they leave the mission area.  Ankunda says  the claims are maliciously designed to taint the Force's image.
He cites as an example recent claims by one Sergeant Swale Baluku that he was forcefully repatriated on health reasons despite being in good health. Baluku also alleged that his commanders were involved in arms sales, favouritism, and that attempts were made to kill him.
"In reality, despite attempts to advise him to reconsider his decision, Swale Baluku himself applied to quit the mission, five months to the end of his official time in Somalia, due to domestic problems back home. He should have officially rotated out of the mission in May 2013," Ankunda says in the statement.
Ankunda adds that in the eight months Baluku worked in Somalia, he was given leave thrice which is more than any other soldier had.
Below is the list provided by the army.
| | | |
| --- | --- | --- |
| RANK | NAMES | REASON |
| MAJ | KIIZA NSUBUGA | RETURNED TO HIS UNIT IN UMA – KABAMBA |
| LT | DAVID OKELLO | STRUCK OFF AMISOM STRENGTH DUE TO EXCESSIVE ABSENCE |
| LT | BARNABAS OMARA | REPATRIATION ON MEDICAL GROUNDS |
| LT | SILAJE LUBWAMA | STRUCK OFF AMISOM STRENGTH DUE TO EXCESSIVE ABSENCE |
| WOI | MUGISHA KENNETH | STRUCK OFF AMISOM STRENGTH DUE TO EXCESSIVE ABSENCE |
| WOI | OKABO TOM | STRUCK OFF AMISOM STRENGTH DUE TO EXCESSIVE ABSENCE |
| S/SGT | WATASA JOHN | REPATRIATION ON MEDICAL  GROUNDS |
| PTE | NYAKUBAHO ZEPHANIA | REPATRIATION ON MEDICAL GROUNDS |
| SGT | KAKANDE AHAMED | STRUCK OFF AMISOM STRENGTH DUE TO EXCESSIVE ABSENCE |
| SGT | AGABA MOTEX | STRUCK OFF AMISOM STRENGTH DUE TO EXCESSIVE ABSENCE |
| SGT | SWALE BALUKU | ALLOWED TO QUIT AMISOM ON HIS APPLICATION |
| CPL | BINEGA ALEX | STRUCK OFF AMISOM STRENGTH DUE TO EXCESSIVE ABSENCE |
| CPL | KIPROP MARTINE | STRUCK OFF AMISOM STRENGTH DUE TO EXCESSIVE ABSENCE |
| CPL | MUHINDO KULABA | REPATRIATION ON MEDICAL GROUNDS |
| CPL | KATO MATIA | REPATRIATION ON MEDICAL GROUNDS |
| L/CPL | AJIJ FRANCIS | STRUCK OFF AMISOM STRENGTH DUE TO EXCESSIVE ABSENCE |
| L/CPL | ATUMA THOMAS | STRUCK OFF AMISOM STRENGTH DUE TO EXCESSIVE ABSENCE |
| L/CPL | AVUDRUGA GEOFREY | STRUCK OFF AMISOM STRENGTH DUE TO EXCESSIVE ABSENCE |
| L/CPL | MUTEGOMBWA ADAM | STRUCK OFF AMISOM STRENGTH DUE TO EXCESSIVE ABSENCE |
| PTE | OGWALETO GODFREY | STRUCK OFF AMISOM STRENGTH DUE TO EXCESSIVE ABSENCE |
| PTE | OPIO OMING SAM | STRUCK OFF AMISOM STRENGTH DUE TO EXCESSIVE ABSENCE |
| PTE | BASHAIJA KENNETH | REPATRIATION ON MEDICAL GROUNDS |
| PTE | OPIO LEO | REPATRIATION ON MEDICAL GROUNDS |
| PTE | WAFULA DUNCAN | REPATRIATION ON MEDICAL GROUNDS |
| PTE | MULABI CHARLES | REPATRIATION ON MEDICAL GROUNDS |
| PTE | OCHAMA GILBERT | STRUCK OFF AMISOM STRENGTH DUE TO EXCESSIVE ABSENCE |
| PTE | MASABA EDWARD | STRUCK OFF AMISOM STRENGTH DUE TO EXCESSIVE ABSENCE |
| PTE | BUGEYA IBRAHIM | STRUCK OFF AMISOM STRENGTH DUE TO EXCESSIVE ABSENCE |
| PTE | AMBA SADIK | STRUCK OFF AMISOM STRENGTH DUE TO EXCESSIVE ABSENCE |
| PTE | SEGUYA AMIDU | STRUCK OFF AMISOM STRENGTH DUE TO EXCESSIVE ABSENCE |
| PTE | MUGARURA EMMANUEL | STRUCK OFF AMISOM STRENGTH DUE TO EXCESSIVE ABSENCE |
| PTE | OTUK  BONNY | STRUCK OFF AMISOM STRENGTH DUE TO EXCESSIVE ABSENCE |
| PTE | SATURDAY ANDREW | REPATRIATION ON MEDICAL GROUNDS |
| PTE | MUCUNGUZI BEN | REPATRIATION ON MEDICAL  GROUNDS |
| PTE | EGODU STEPHEN | REPATRIATION ON MEDICAL  GROUNDS |
| PTE | NSEREKO MUZAMIRU | REPATRIATION ON MEDICAL  GROUNDS |
| PTE | OKALEBO FRANCIS | REPATRIATION ON MEDICAL  GROUNDS |
| PTE | OKWI SIMON | REPATRIATION ON MEDICAL GROUNDS |