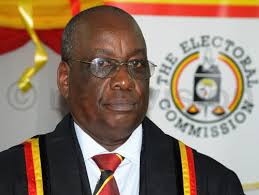 The Electoral Commission today starts a countrywide process of updating the voter's register ahead of the 2016 general elections.
All Ugandans above 18 years who have never been registered and those who were not captured during the national ID registration process are eligible for the exercise.
The Commission's Acting Chairperson Joseph Biribonwa says the exercise that ends of 30th June will cost about 40 billion shillings.
He says after the exercise the commission will then display the up dated register from 2nd to 22nd of June this year.
Meanwhile, Parliament has been asked to urgently consider enacting a law that allows Ugandans in the diaspora to participate in the general elections.
The recently released Electoral Commission Road map to 2016 general election, Ugandans in the diaspora does not cater for this category of voters since there is on enabling law.
The National Coordinator Citizens Coalition for Electoral Democracy in Uganda Crispy Kaheru says considering the revenue the economy gets from Ugandans in the diaspora, they must be allowed to make crucial decisions for their country.
Kaheru says like other countries, Uganda should utilize its missions and embassies abroad to act as polling stations for Ugandans in the diaspora.
Story by Herbert Zziwa