By AFP
Catholic zealots were nailed to wooden crosses while others whipped their backs bloody and raw in gruesome displays of religious devotion on Good Friday in the Philippines.
While most people in the religious, Catholic-majority country spend the day at Mass or with their families, some go to extreme lengths to atone for sins or seek divine intervention in rituals frowned on by the Church.
In San Juan village, north of Manila, hundreds of residents and tourists watched a blood-soaked re-enactment of Jesus Christ's last moments.
Dozens of men wearing crowns made out of vines and cloth over their faces walked barefoot through narrow streets, flogging themselves non-stop with bamboo whips.
Blood ran down their backs, soaking the top of their trousers and splattering spectators crowded in front of shops and houses.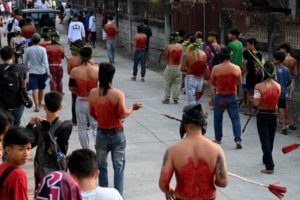 Some flagellants stopped to prostrate on the ground so they could be beaten with flip-flops and pieces of wood.  Read more