By AFP
A 6.4-magnitude earthquake on Monday rocked Turkey's southern province of Hatay and northern Syria, killing three people and sparking fresh panic after a February 6 tremor that left nearly 45,000 dead in both countries.
Turkish Interior Minister Suleyman Soylu said three people were killed and 213 were taken to hospital, while in Syria White Helmets said more than 130 people were injured and that some already damaged buildings had collapsed.
Monday's quake hit the Turkish town of Defne at 8:04 pm (1704 GMT) and was strongly felt by AFP teams in Antakya city. It was also felt in Lebanon.
Turkey's disaster management agency said on Twitter another 5.8-magnitude quake followed three minutes later and its epicentre was Samandag district in Hatay.
The agency recorded two more tremors of 5.2 magnitude around 20 minutes after the first on Monday.
Images from DHA news agency showed a hospital in Antakya being evacuated, while broadcaster NTV reported another hospital was evacuated in the city of Iskenderun.
DHA said patients in an intensive care unit were taken by ambulance to field hospitals to continue their treatment.
Soylu said rescue workers were trying to find people trapped under rubble.
'Earth opening up'
An AFP journalist reported scenes of panic in Antakya, adding that the new tremors raised clouds of dust in the devastated city.
The walls of badly damaged buildings crumbled while several people, apparently injured, called for help.
On a street in Antakya, Ali Mazlum, 18, told AFP: "We were with (disaster response agency) AFAD who were looking for the bodies of our family when the quake hit.
"You don't know what to do… we grabbed each other and right in front of us, the walls started to fall. It felt like the earth was opening up to swallow us up."
Mazlum, who has lived in Antakya for 12 years, was looking for the bodies of his sister and her family as well as his brother-in-law and his family.
'No longer safe'
Officials had urged people to stay away from the coast but Vice President Fuat Oktay said the warning had been lifted as the risk of a tsunami had passed.
"The road moved like waves. The building moved back and forth, the cars moved left to right. It knocked me off my feet," said Mehmet Irmak, who works at a notary's office.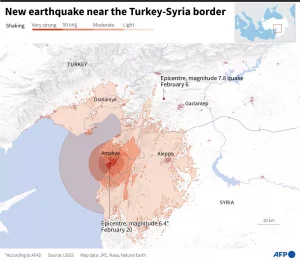 "Hatay is no longer a safe place. We could hear a lot of buildings collapsing… We will wait for a new day, but I don't know what I'm going to do," added Irmak, who had been sleeping in his car for two weeks after the first quake.
The Syrian American Medical Society (SAMS) said five hospitals it supports in northwest Syria received several people who had sustained minor injuries, some when parts of damaged buildings fell on them.
In government-held areas, Aleppo hospitals also received panic-stricken residents, while six people were injured by falling rubble, Syrian state news agency SANA said.
Al Razi hospital in Aleppo received 47 cases, state media reported.
"We rushed out, we don't know how we left. I was afraid that we would meet the same fate as those who died under the rubble," said Khadija Al Khalaf, a 45-year-old mother, in the rebel-held city of Azaz.
Aftershocks
According to AFAD, more than 6,200 aftershocks have been recorded since the 7.8-magnitude hit Turkey and Syria, leaving millions homeless.
Officials said after the February 6 quake that aftershocks would be felt for a year because of the force of the first tremor.