President Emmerson Mnangagwa has won Zimbabwe's presidential election, according to the electoral commission.
With all 10 provinces declared, Mr Mnangagwa won 50.8% of votes, compared to 44.3% for opposition leader Nelson Chamisa.
Police removed opposition officials from the electoral commission stage when they rejected the results.
The chairman of Mr Chamisa's MDC Alliance said the count could not be verified.
By narrowly winning more than 50% of the vote, Mr Mnangagwa avoids a run-off election against Mr Chamisa.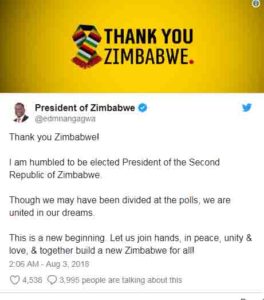 The president said on Twitter he was "humbled", and called the result "a new beginning".
Mr Mnangagwa, from the governing Zanu-PF party, took over as president last November from long-serving leader Robert Mugabe.
Story By BBC NEWS………..