The rebuilding job has begun at Arsenal and the latest is Germany international keeper Bernd Leno who has moved to Arsenal from Bayer Leverkusen in a £20million deal, which was confirmed on Tuesday evening.
The 26-year-old has agreed a five-year deal with the Emirates Stadium club.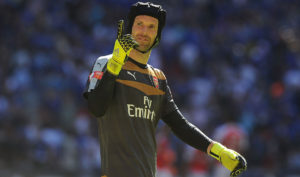 The move casts serious doubt over Petr Cech's future at the club. The former Chelsea star has established himself as Arsenal's first-choice keeper in recent seasons, but Leno has arrived expecting to be No 1.
Napoli have an interest in taking Petr Cech on loan but have others as priorities. Cech, 36, has just 12 months remaining on his contract with Arsenal and it is not clear whether Emery wants to keep the veteran beyond that.
Emery has also lined up Sampdoria midfielder Lucas Torreira and Borussia Dortmund defender Sokratis Papastathopoulos with more talks ongoing with other targets.
Arsenal have confirmed their first-team coaches for the 2018/19 season and Lehmann joined a long list of those leaving the club. But Steve Bould will remain on as an assistant to new head coach Emery.
Upset with the club's decision, Lehmann vented his anger and sarcastically eluded that they no longer need a coach from the famous 2003/04 season, where Arsenal won the Premier League title undefeated.
The former goalkeeper was a key figure during Arsenal's invincible campaign and made his feelings clear as he said: 'The attitude from our 2004-group is not needed there anymore,'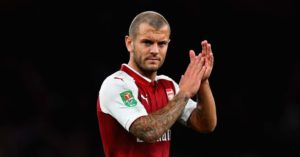 Jack Wilshere has announced that he is to leave Arsenal once his contract with the club expires at the end of the month.
Wilshere broke the news on his Instagram account on Tuesday night before posting a video montage of his time at the club.
The 26-year-old revealed he would have accepted a pay cut but decided to leave after it was made clear by Unai Emery that he could not be guaranteed regular first-team football.
In a statement, Wilshere wrote: 'I can confirm that I will be leaving Arsenal Football Club when my contract expires at the end of June.
Wilshere has been at Arsenal for 17 years but has struggled with injuries, which have restricted his ability to play regularly.